Years ago I received a splitboard as a gift. If you're not familiar with a splitboard, it's basically a snowboard cut into two pieces like skis. It allows you to skin (hike) uphill like you're on skis. You connect the board at the top and then snowboard down. Because I've never been in the true backcountry on a snowboard, I stuck to the resort the last couple of years simply out of comfort. It made for a great workout, but I had no idea what I was truly missing.
For the first time ever, I joined two great friends of mine on a backcountry adventure. I was a little nervous because I haven't gone through the proper backcountry training courses (which is very important), however, I knew I was in good hands with these two. We skinned up the mountain for a couple of hours. As sweat dripped down my back and a small blister started to form on my right heal, I was totally mesmerized by the silence of the snow. The sun hit each flake just right making it looks like fields of diamonds. My mind was so still and so clear. All I could think about was why on earth it took me so long to experience the magic of the backcountry.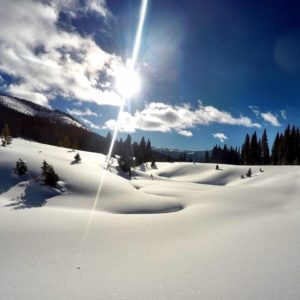 We made it to the top of the mountain where we would remove the skins and get ready to enjoy the turns we earned! As I looked out at the horizon, the only thought that came to my mind was "This is life…how did I get so lucky?" You could see Mount of the Holy Cross in the distance and the rest of the Sawatch Range. The sun seemed so close I could touch it. And then came the best part.
Snowboarding in knee deep powder is like surfing on butter. I literally floated through a sea of powder getting face shots on every turn. Fresh, untouched tracks the entire way down. I was grinning ear to ear and letting out little yelps like an excited little school girl. You get to the bottom and then you get to do it all over again! I want to do this all day, everyday!
When I ask people what feeds their soul…what makes them feel alive? This is it for me. If I could bottle up the joy I felt on this day and sell it on the black market, I would be rich. These are the moments I live for. These are the days I feel most alive. When is the last time you tried something new? Stretch yourself. Live beyond your limits because that's when you truly change and grow.